This is our 2nd Show Off Your Blog Party. Thank you to Jessica of The Wondering Brain for hosting and creating this blog party.
Hope you guys link up!
First off, we want to thank everyone who particpated in last week's SHOW OFF Blog Party!! It was the first one and can I say this?
Our premiere blog party generated a total of
101
Blog Posts!! I do want to share the kudos with the bestest co-hostees ever:
If it weren't for their enthusiasm and positive attitude we wouldn't have accomplished such a number on the very first blog party!!
Now... this party isn't called a SHOW OFF Party for nothing! We wanted to spread the love and feature our favorite posts so we can show you off some more! Here are our faves from last week:
We all love our husbands, so why not leave them sweet nothings on their
voicemails?
It doesn't matter whether your 1 or 41, when do you ever NOT need mom?
So, who says 40 is old? Yah right!!! 40 is the NEW 25! That's what I'm saying :)
As moms, we tend to worry more about our family and forget ourselves. Don't forget you're a mom and you're important too!
Congratulations to all our featured bloggers! Please take our button to "SHOW OFF" that you were featured at the SHOW OFF Blog Party: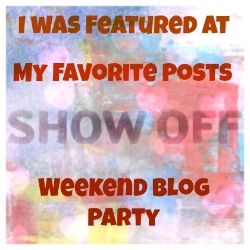 Ready to party? Here are a few simple rules:
Link up your favorite posts. It doesn't matter which one, just make sure it's family friendly!

Follow your host (that's me! The Wondering Brain)

Leave a comment if you'd like them to follow you too

Visit at least 3 other bloggers

Show them your blogger love too if you'd like them to follow

Take our beautiful badge and proudly display it on your side bar to encourage others to party with us!
Interested in co-hosting The SHOW OFF Weekend Blog Party next month? We would LOVE to have you! $4.00 to reserve your spot for a month and a discounted rate for ad space! We won't disappoint. I promise! Please email for more information:
thewonderingbrain@gmail.com